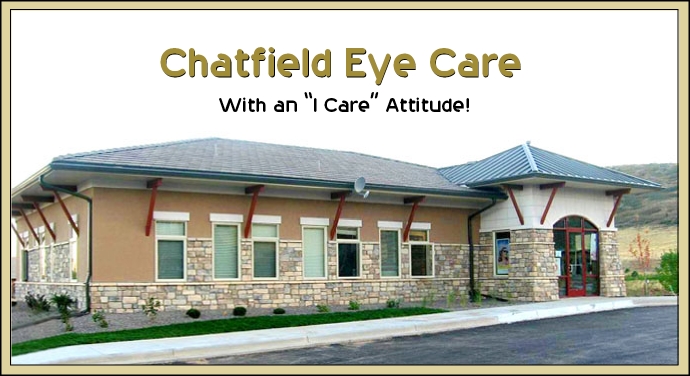 Welcome to
Chatfield Eye Care
Monday - Open 9:00am to 4:00pm - eMail for appt -
Tuesday - Open 10:00am to 2:00pm - eMail for appt -
Wednesday - Open 9:00am to 4:00pm - eMail for appt -
Thursday - Open 9:00am to 4:00pm - eMail for appt -
Friday - Open 9:00am to 4:00pm - eMail for appt -
Saturday - Open 9:00am to 1:00pm - eMail for appt -
Sunday - Closed - eMail for appt -

eMail for Urgent / Emergency Service: appt@ChatfieldEyeCare.com
---
Chatfield Eye Care is Looking for a new Team Member:
Part time position 20-30 hours a week.
- Computer skills are a must.
- No Ophthalmic experience is necessary, but is a plus.
- Enthusiastic, Reliable and Self Motivated.
If you are interested in joining a friendly practice with great hours:
phone: 303.933.0353 ask to speak to Kristie
fax: 303.933.0284
email: team@chatfieldeyecare.com
---
Eye care with an "I CARE" Attitude!